Have you ever felt frustrated because your bathroom is simply not functional? Are you planning on changing it, but you'd like to know what mistakes to avoid when planning a bathroom?
Whether you've decided to take first steps to change your bathroom or even if you're just thinking about possible adjustments, you're in the right place. If you want to plan a new bathroom, it is really important that you think it through in advance.
In this article you'll learn about 5 common mistakes to avoid when planning a bathroom, so that you can make yours practical and useful for years to come.
Mistake no. 1: BAD VENTILATION
If you're just thinking where to place a bathroom in an entirely new home, you'll need to keep in mind that a bathroom needs to withstand a lot of air humidity after showers or baths. Therefore, having good ventilation is a must.
It would be great to have a window in a bathroom as a natural way of ventilating, but as it's not always possible, think about investing in a good extractor fan (I suggest you install an extractor fan even if you do have a window, though. In the winter you don't always want to open windows and this little fan can save you a lot of money on repainting walls and replacing mouldy grout).
Things to take into account when choosing
the best extraction fan for your bathroom:
• how big is your bathroom,
• placement of the fan,
• extraction rate (it varies from about 75m3/hr to as high as 550m3/hr),
• noise level,
• timer (can it be switched on separately to the light? will it switch off automatically?),
• energy consumption.
A good resource for finding the right parameters of an extractor fan suited to your particular needs: find out here.
Mistake no. 2: TOILET AS A FOCAL POINT
I'm sure you'll admit that a toilet is a very private place. As such, if you don't have a separate toilet, you should remember to think about the right placement of your toilet within the bathroom. A toilet should not be a focal point centrally across the entrance.
On the sketch below you'll see an example of what I'm talking about. Here, whether your toilet would be situated opposite the entrance or towards the left, it's still the first thing you see when you open the door. Imagine what would happen if somebody were to accidentally come in at a wrong moment… Awkward.

Now, the simplest solution for this problem would be to have the toilet in that left corner, but change your doors so its hinges would be on the left side instead of right. The doors would then open the other way. That's the easiest solution and it's very much recommended.

However, what if changing doors to your bathroom is out of the question? The other solution is building a small dividing wall (sketch above). It can either be full floor-to-ceiling height, but it could also be only as tall as shoulder height. It hides your toilet and creates an extra corner for a cabinet or sink or whatever else you might want to put there.
Mistake no. 3: UNFORTUNATE LOCATION IN RELATION TO OTHER ROOMS
Have you ever visited friends and felt really uncomfortable when you had to use their toilet? Other than your own toilet-related anxieties, the reason might be… the unfortunate location.
If you're just planning out your new house there are three things you should consider when deciding on the bathroom's placement:
1. Will it be used only by you, or will other family members or guests have to use it too? It needs to be easily accessible for all users.

2. A bathroom should also be located in a place where you will be able to use it at any time of day or night without disturbing anyone (think nightly visits and disturbing somebody's sleep).

3. And finally – it's good to think about your toilet's location from a guest's perspective. Would you be able to sneak out without attracting attention? Or will everyone in the living room know exactly when you left… and for how long? Just sayin'. Comfort matters.
Mistake no. 4: NOT ENOUGH SHOWER SPACE
If you decide to choose a shower without a cabin, be realistic about how much space you're going to need. So that you can get in & out and shower comfortably… without having to sit on the toilet!
(Haven't seen that before? Be very glad! I came across similar mistakes a few times – always makes me laugh :) ) Remember that the same goes for showers that are located under a sloped ceiling.
If you're trying to squeeze in both a bathtub and a shower, but you don't really have the space for it, maybe it's time to drop one?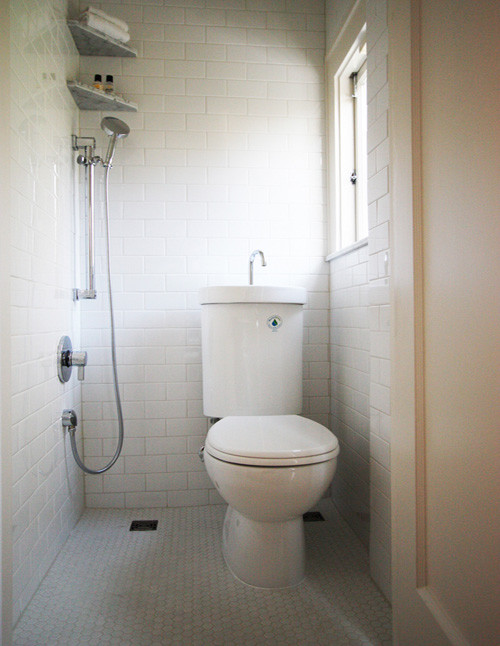 Mistake no. 5: LACK OF STORAGE SPACE
I have a question for you. Have you ever had too much storage space?
…
No?
Well, you're not alone.

No matter how much space you think you'll need, if you're refurbishing, always, and I mean ALWAYS plan for extra storage space in your new bathroom. (TWEET THAT!)
It's like with hard drives and memory sticks – if you're buying a new one, make sure that it's bigger than your previous one! (And in this case it doesn't actually have to be BIGGER, just include more smart storage options.)
True for laptops, true for bathrooms and kitchens. And it doesn't matter if you're a minimalist (which you probably know I encourage – decluttering is a way of living and even Julia Roberts swears by it). If you want to cut down the number of things you have, you can still do it and just have your shelves less stuffed (the added bonus is that they look much better this way).
But imagine this: you're remodelling your bathroom now.
It's going to be all nice and shiny in a while and let me ask you – wouldn't you want to buy new towels? Those pretty fluffy towels that you know you've always dreamed of.
Well, of course you would!
And now that you have your new dream bathroom, you've got a good reason, because your old towels simply don't look as good as your new bathroom. So you go and buy your new fluffy towels… but they're so big they don't fit in your shelves! Oops.
'If only I had listened to Kat, you'll say'… :) Ok, my imagination took over there, but you get the picture.
Think ahead. Will your needs for storage space still be the same in 10 years (I'm sure you'll know how to answer this question for yourself.) So plan ahead, plan ahead.
Those were the 5 mistakes to avoid when planning a bathroom. Did you catch yours before you made it?
Now I would love to hear from you: what else doesn't work in your bathroom? Leave a comment below telling me what you're struggling with the most right now.
And if you enjoyed this article, make sure to spread the word and share it with your friends below. Because the more people know about this stuff, the better our bathrooms will be, the happier we'll be in general, the more positive the world :)
So, *you see*, sharing is good for everyone!
Have a lovely week my dear,