Whether you like to cook or not, you're probably accumulating more and more kitchen appliances over the years – and likely your kitchen didn't magically expand, or did it? (If it did please let me know what spell you used – I so want to know that one!)
You'll find my 3 most practical tips below.
The FIRST one is a great idea for how to store all those big ladles and spatulas: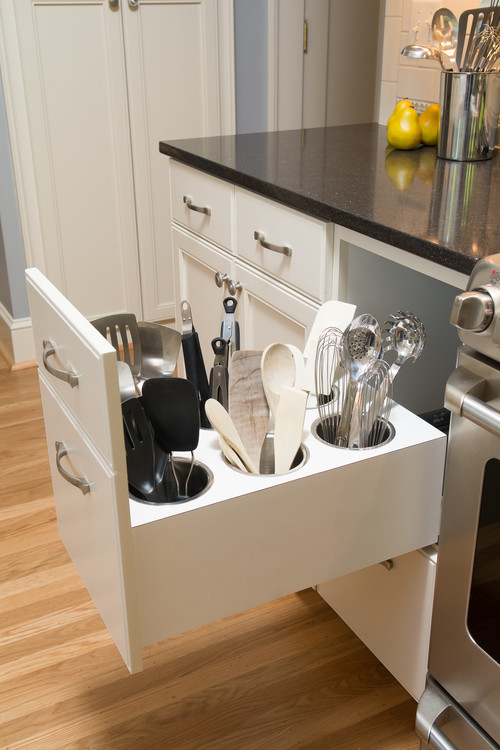 However, if you don't plan on re-doing your kitchen quite yet, even if it is to include such a magical drawer (fair enough!), then here is my spin on this idea: buy a few containers (the ones below are from Ikea) and sort your utensils, either by size, material or simply depending on how often you use them!
They can be free-standing, or if you have a big drawer, you can place them inside.
SECONDLY, think about the area where you keep your food wraps and food bags.
Is it possible that you have a kitchen drawer, where you keep all of them, but every time you try to take something out you have a problem closing it? Is it a bit messy with bags falling out of it? (You don't want to throw out a good plastic bag that could be reused now, would you? I know how it feels!)
Consider food-wrap dividers.
You can slip them into an existing drawer (like on the picture below) and say no to 'an artistic mess' in that area. And when it comes to all those plastic bags you keep collecting at the store – it's really time to go green and carry a small reusable bag in your handbag or in your car (CLICK TO TWEET) for that occasion, don't you think?
And LAST, BUT NOT LEAST I challenge you to
at least half

the number of plastic bottles and plastic food containers you know you keep somewhere in your kitchen for when you will need to take a lunch out or freeze something.

We're all guilty of that (I'm thinking about all these plastic Chinese takeaway containers I used to keep at the back of my cupboard). Recycling half of them should free up some space in your kitchen and let you rearrange your things and think about the way you store them.

So now, over to you.
Think about your kitchen. What's your most irritating problem in terms of kitchen storage? Let me know in the comments below.

Did you find these tips helpful? If yes, please share them with your friends and invite them to join us on this adventure of creating better, more practical and friendly homes!

I look forward to hearing from you and we'll talk more next week,